The Balbish Defence Forces encompass the National Guard of Balbarno(Balbarno Defence Force) and an independent Guard regiment under direct command of the Duke of Balbarno. 
Balbarno has been a battlefield many times in the past, and has a very rich military history. Balbarno is most famous for the battle of Central Balbar where an army of 105.000 Balbarians met an army of 60.000 of the Republic of Falleentium. It is interesting to note that there was a Balbar legion within the army of Falleentium. That was due to the instability and chaos in the Balbar regions and many joined the cause of Falleentium in hopes of democracy and freedom. 
But Balbish forces truly rose to prominence during the Great War with the Golden Empire where they had participated in nearly all major land offensives. Particulary in the Jödingburg offensive where some 6.000 Balbish soldiers are believed to have been casualties.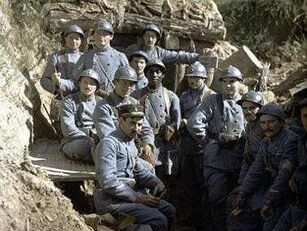 During the Civil War the Balbish soldiers mostly swore loyalty to the Consular faction due to the fact that Eduard Guequierre was Balbish and pursued greater national self-determination within the Empire. 
Organisation
Edit
The Balbish Defence Force's typical formation is a regiment usually composed of 3.000 troops in three battalions. A division is anything above 3.000 troops. A Ducal Guard(Garde Ducale) unit also exists under the command of the Duke of Balbarno which is divided into four regiments(3 infantry and 1 cavalry). The Ducal Guard has about 900 troops. 
Balbish Defence Forces Edit
General Staff of the Defence Forces, (État-major des Forces de défense) Balranico

1st Grenadier Regiment of the Ducal Guard(1er Régiment de Grenadiers-à-Pied de la Garde Ducale), Balranico 
1st Infantry Regiment of the Ducal Guard(1er Régiment de Chasseurs-à-Pied de la Garde Ducale), Balranico
2nd Infantry Regiment of the Ducal Guard(2e Régiment de Chasseurs-à-Pied de la Garde Ducale), Balranico
1st Regiment of Dragoons of the Ducal Guard(1er Régiment de Dragons de la Garde Ducale) 

1st Infantry Division (1ère Division d'Infanterie)

3rd Infantry Regiment(4e Régiment d'infanterie) 
2nd Infantry Regiment(2e Régiment d'infanterie) - artillery detachment
1st Motorised Infantry Regiment(1er Régiment d'infanterie motorisée) 

2nd Infantry Division(2e Division d'infanterie)

1st Infantry Regiment(1er Régiment d'infanterie) 
2nd Motorised Infantry Regiment(2e Régiment d'infanterie motorisée) 
4th Infantry Regiment(4e Régiment d'infanterie) 
Equipment
Edit
List of weapons used by the Balbish Defence Forces 
Submachine guns
Edit
Machine guns
Edit