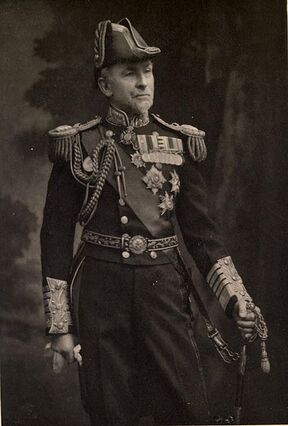 Former Fleet Admiral Of The Fallen Navy, David Martin (June 1st 486AER-May 30th, 534AER). Formerly The Federal Representative Of Reellam. Executed for High Treason in 534AER.
Early Life
Edit
Born on June 1st, 486AER to a poverty stricken family in Rittnor's public housing. At age seven the young Martin ran away from home and only began attending school at the age of nine. With no place to live, Martin usually stayed and slept inside of one warehouses in Rittnor's port. Living in the port's warehouses, Martin developed a love for the sea

Martin was arrested alongside Imperial Chancellor James Folson, for Conspiracy to Conduct a Coup, and High Treason. While Folson was cleared of the charges, Martin plead No Contest, and received the Death Penalty. In accordance with Military Law, he was executed by Firing Squad on May 30th, of 534, at Hallenbeck Federal Prison, outside Corrintin.